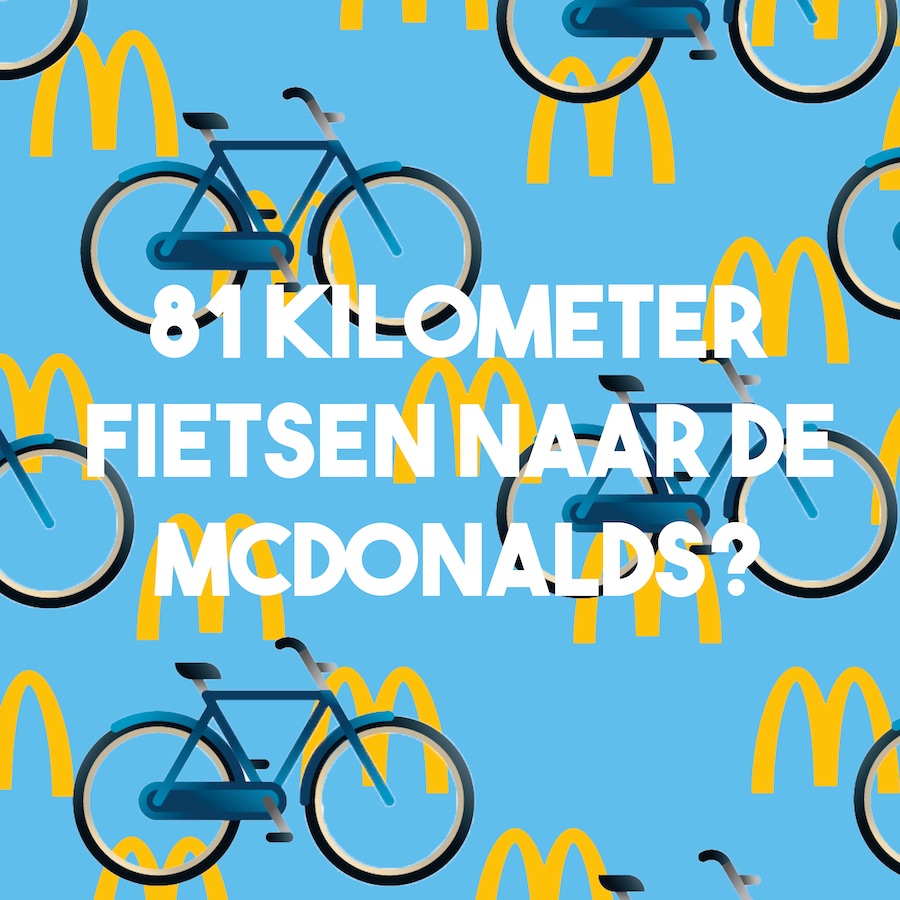 Vrienden fietsen McMarathon: 81 kilometer langs zes vestigingen
We doen het bijna allemaal. Vooral tijdens de coronacrisis. Even langs de McDrive voor een ijsje of een burger. De veertienjarige Bram uit Hoogeloon was de McDrive niet genoeg. Met zijn vrienden bezochten ze op één dag zes verschillende McDonalds in de omgeving van Eindhoven.
Bram was samen met een aantal van zijn vrienden, toen ze met het idee kwamen van de 'McMarathon'. "Een van ons stelde voor om naar de McDonalds te fietsen. Toen gingen we verder denken en besloten we er een marathon van te maken. We wilden zo veel mogelijk restaurants bezoeken in een dag", vertelt hij aan EditieNL.
En zo ontwikkelde het idee zich verder. Er kwamen meer jongens bij die ook mee wilde. In de ochtend om elf uur vertrokken ze naar de eerste McDonald's. "Om zes uur 's avonds kwamen we weer thuis." De jongens fietste uiteindelijk zo'n 81 kilometer. "Ik had wel een beetje spierpijn achteraf."
De jongens bezochten meerdere McDonald's in de omgeving Eindhoven. Bij elke stop bestelde ze iets anders, zodat ze aan het einde van de rit een hele maaltijd op hadden. "Zo bestelden we op de ene plek een frietje, dan een burger en ergens anders weer een ijsje."
Gelukkig hebben ze hun avontuur ook vastgelegd op TikTok. De video haalde meer dan 300.000 views en 40.000 likes. "Mensen laten hele leuke reacties achter. Ze zeggen dat ze ook een marathon willen doen of taggen hun vrienden. Het is heel gek, we hadden dit totaal niet verwacht."
Deze McMarathon gaat dus zeker niet de laatste zijn. Kort daarna zijn ze ook de Domino's vestegingen afgegaan in en rondom Eindhoven. "Het lijkt ons wel leuk om dit nog een keer te doen, maar we moeten natuurlijk wel kijken wat er in de buurt zit."
Voor Bram was het een succes. Zou jij dit avontuur ook aan gaan met je vrienden?